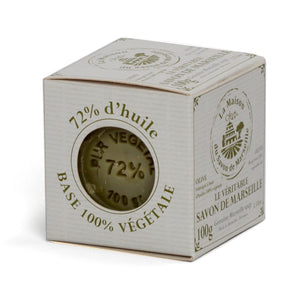 VIlle De Fleurs
Savon de Marseille Cube With Olive Oil Original Recipe 100g
Regular price
£4.50
£0.00
Savon de Marseille with Olive and Coconut oil
Comes in cardboard box, ideal as a gift, Christmas stocking filler, birthday gift, treat to yourself.
Our cube of 100g Marseille soap with olive oil is particularly gentle on the skin and contributes to the respect of the environment.
Based on vegetable oils (70% olive oil, 30% coconut oil), no coloring, no perfume and no synthetic product. Its oil is rich in vitamins E, it is used on the whole body and face. Your skin is then preserved from drying out, softened and deeply moisturized.
Genuine Marseille soap!
Demand the logo deposited by the union of Marseille Soap Professionals!
This cube of 100g, true Savon de Marseille, is the symbol of Marseille par excellence, the original recipe!
Skin types: Sensitive/ Normal / Dry, Very dry, All skin types
Use: Face Care, Hand Care, Body Care
Made by small manufacture in Provence!
Ingredients: Sodium Olivate, Sodium palmate, Sodium cocoate; aqua (water), Chlorure de sodium, Hydroxyde de sodium
---
More from this collection